Overview
MSH Exchange Autoresponder is lightweight and easy to deploy software that allows you to create Exchange Server automatic replies, out-of-office messages and email notifications.
The program integrates with Microsoft Exchange via official transport agent API managed by the administration panel you can install even on a workstation.
Easy to navigate GUI provides a quick way to create and manage auto reply rules, such as:
support first contact auto replies
Out of Office notifications
marketing campaigns
standard auto reply messages
legal compliance notifications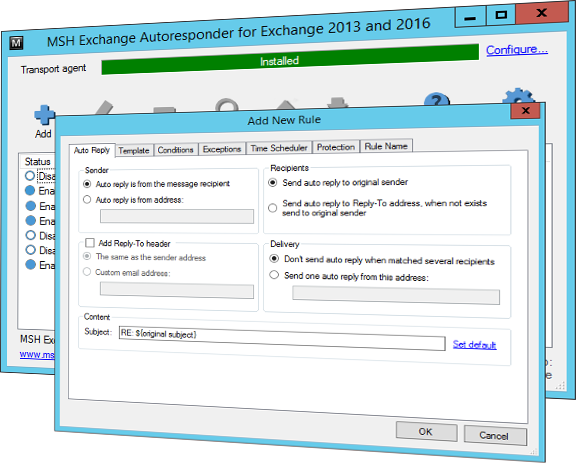 Features
Centralized Exchange Server Solution
Create one template with dynamic content and configure any kind of replying rules centrally on the server. The program works without Outlook.
Trigger the action with message's sender, recipient, subject or all messages
The program allows to search for specific keywords within message's subject, match the sender or recipient address with the defined one. Send the autoreply for selected emails only.
Advanced Time Scheduling
Decide when the automatic reply is sent. Creating rules that are active outside office hours, during weekends, or holidays is not a problem anymore. Recurring time ranges are also supported.
Change autoreply sender address
Rewrite and decide who is the message's sender. Auto replies can use any address you desire.
Add Reply-To header to the auto reply message
Change recipient of autoreply reply.
Compose personalized auto reply message
Create your customized email and take advantage of the HTML power. Keep the look of your correspondence professional and forget about flat-looking plain text messages.
Protect Against Auto-reply wars between Servers
Built in loop-protection mechanism keeps you safe and prevents your server from replying to another autoreply forever. Limit the frequency of sent emails and save your bandwidth.
Screenshots
Videos
Pricing/Buy
MSH Exchange Autoresponder is licensed on a per server basis, no matter how many users you have in your environment.
An annual license will allow you to use the licensed software for one year, and entitle to download all updates to the software and to receive technical support. After the one year period ends, the software will no longer function unless a new license is purchased.
The license covers a major release version of the software you purchase (i.e. 1.x, 2.x etc.) and all updates within the same iteration of the program (e.g. 2.1, 2.2 etc.). The price of the program includes:
Any updates published within the major release
Technical support (provided by email)
Applying Your License
After purchasing MSH Exchange Autoresponder license, the license activation key is sent by email with instructions on how to apply it.
Documentation
Click the following link to open MSH Exchange Autoresponder documentation.
If you have any questions or suggestions please do not hesitate to contact us on contact@mshsoftware.com.
Download version 2.1.3
Demo Mode
By default the program works in Demo Mode. When in that mode it's fully functional without any time limit, and adds small MSH Exchange Autoresponder disclaimer to the bottom of each sent autoreply.
Release History
fix

on Exchange 2007 and Exchange 2010 application sometimes had problems with sending auto replies from distribution groups

change

now for Exchange 2013 and Exchange 2016 .NET Framework 4.5 is required
fix

on Windows 2008 R2, Exchange 2010 and PowerShell 2.0 application had problems with installing transport agent
new

global exclusions (blacklist)

new

insert hyperlink preview

new

html source view

new

import template option

new

import license key from application

new

import/export application settings

new

options window

new

completely redesigned autoreply wizard page

new

added context menu on all lists

fix

several minor issues
---