Automatic replies for incoming emails - Exchange Server
MSH Exchange Autoresponder it's application dedicated for:
Microsoft Exchange Server 2007
Microsoft Exchange Server 2010
Microsoft Exchange Server 2013
It will help you to set up automatic auto replies on mail server. With this tool you don't need Microsoft Outlook anymore.
Microsoft Exchange Server don't provide out of the box solution for auto reply messages configured on mail server. You need to use workarounds for this. One of them is to set up Microsoft Outlook linked with specific mailbox and then configuring rules to reply to messages - unfortunately Outlook needs to run 24/7 to sends messages.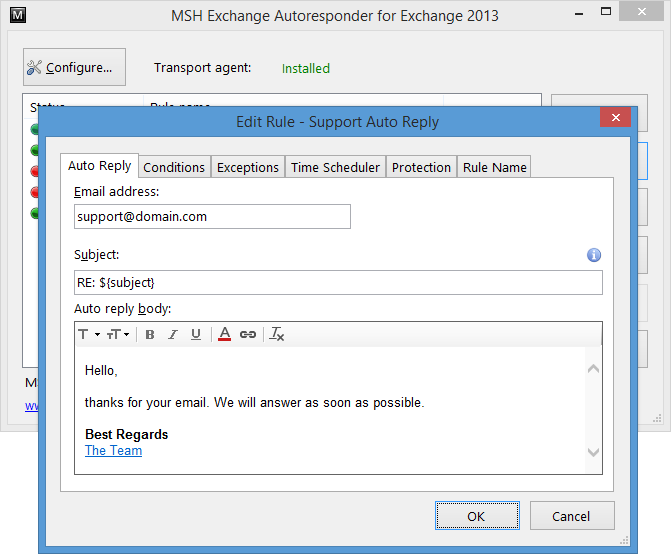 Microsoft not provide ready to use solution, so you need to look for 3rd party tool. MSH Exchange Autoresponder is a full featured extension for Microsoft Exchange which will help you with setting up auto replies really easy.
Features:
wildcards and regular expressions for matching message sender, recipients and subject
protect against message loops between servers
easy message compose editor
on click exchange transport agent installation
change auto reply sender email address
it's exchange server solution - Outlook is not needed
limit number of replies to the same recipient or send autoreply all the time
use advanced time scheduling options for sending automatic messages
To learn more visit MSH Exchange Autoresponder website.