Disclaimers for Zimbra and Postfix
A common problem with Zimbra, Postfix or Sendmail is that they doesn't provide an easy way to add disclaimers or footers to outgoing email messages. Most companies like to append signatures to emails sent by their users, whether it's just a legal disclaimer or something more sophisticated. The best and only approach is to use 3rd party tool for this job.
MSH Disclaimer & Signatures it's a server side solution and it's appears to be one of the best.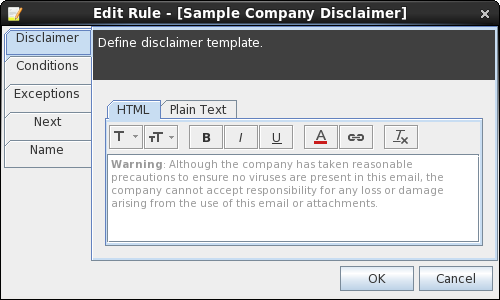 Application can add different types of disclaimers depending on email format. It supports Html and Text messages. It skips digitally signed and encrypted emails due to theirs nature (cannot be modified).
Disclaimers can be appended based on predefined rules, matched against message sender, sender domain, recipients and email content or even a time range. Application can detect already inserted disclaimer and will prevent from adding second one.
To learn more visit MSH Disclaimer & Signatures website.