Remote connection to mail server with Administration Panel
With MSH Disclaimer & Signatures you will extend your mail server, like Postfix, Sendmail and Zimbra with server side disclaimers. Append footers to outgoing, internal or incoming messages.
Add mail server
Before connecting to mail server can be made Milter must be installed on it. Then you need to connect to this server. To define new server click Add Server button.

Application can work with real and test server. Option to simulate connection could be used when you don't want to install Milter on mail server and only want to check how application works and what functions are supported.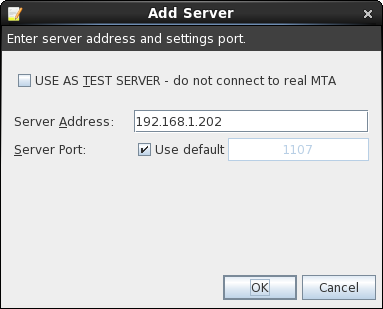 To connection server IP or hostname is needed. By default application is using 1107 TCP port. If you didn't change it then leave it.
Want more?
You will add disclaimers to all type of messages:
append HTML and Plain Text disclaimers
make disclaimers to look the same in each messages
prevent of disclaimer duplication
define scope of senders, recipients and time range to add different disclaimers
To learn more visit MSH Disclaimer & Signatures website.