Holiday autoreplies for Exchange
It's August and we are in the middle of a holiday season. Some employees might be too excited about an upcoming leisure time and forget to set up an out of office autoresponse during their leave. It is wise to implement a company-wide autoresponder that will take care of such incidents. MSH Exchange Autoresponder provides the solution.
If you are an Exchange administrator, you have found a tool to create global, standardized, great looking Html autoresponders that will easily tackle the problem of out-of-office notifications across the company. MSH Exchange Autoresponder installs directly to Microsoft Exchange and in a few simple clicks taps into users' mail and Outlook without client-end installations.
Have you ever seen an outdated notification containing old company data and contact information? Surely yes. No more such headaches for your employees with this tool. With a cooperation of HR and administrators it will be a matter of a few minutes before you set up a standardized, unified template for whole departments. It is incredibly easy to create policies with templates that will apply for selected users, groups or organizational units across the company. So don't wait, and take the hassle of creating Out of office autoreplies off the shoulders of the individual employees in your company.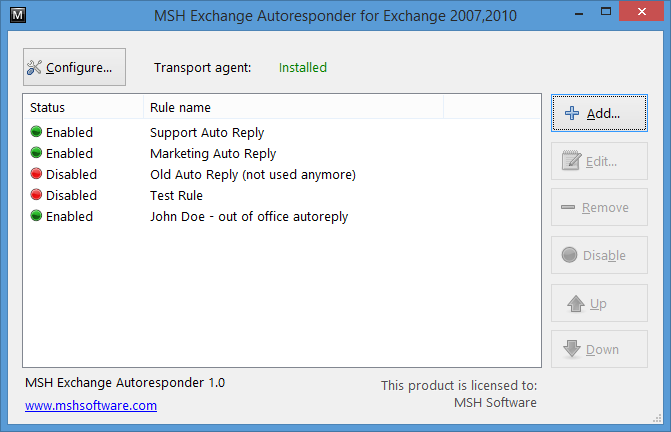 Your holidays season might be free from nightmares if you are an Exchange administrator who chooses to use a tool that will take care of out of office notifications in your company. Otherwise, be prepared for complaints about an ailing mailing system that teases external customers with false information.
To learn more visit MSH Exchange Autoresponder website.